Seriously, there is almost NO organization in GPEO.

There's a command structure, but its not followed.

We have base's and aircraft, but there unused.

We have pilots, yet most are untrained.

GPEO has been around for long time now, yet the way we run, you would think we just started out.

Here are some things i think we need to focus more on:

1. Training: We have quite a few pilots, some of them really good, but alot untrained. I'm talking about all roles to, not just fighters.

2. Inter-role (Joint) Operations: After pilots get their training, we need to be able to work together effectively. We can have the best pilots in the world (WHICH WE DO!!!!), but if they can't work together, there not very effective. For example, the Detroit Lions (Sorry I'm from Michigan, there's no better example than this). The Lions have alot of great players individually, yet they have been losing SO BAD that people from Detroit disown the Lions. (Because they cant work together!!!!)

3. Allies/Enemies: We need to make sure who's with us, and even more important, who's against us. For our allies we need to keep lines of communication open, do Training Ops together. As for enemies, keep a close eye on what there doing.

4. Clear up this whole "virtual world situation": I agree that this virtual world was "created" first. But if there are no other military's to fight with or protect your land from then you have no reason for the military. Basic Kant's Theory of Universalisation. We need to either find a way to get them back here to this VW or eat some humble pie and go over there. Again its easy to be number one if there's no competition.

5. Stick with one version: Everyone is here because of FSX, not Fs9. We need to stick to only on version, FSX This is the version everyone got before they found GPEO and it would be stupid to make them get FS9 (paying or torrenting) and having to switch in between.

Let me know what you think. I'm not trying to be mean by posting this but as it stands we are very organized and vulnerable.

bassace08




Posts

: 14


Join date

: 2009-11-28



now what u say bass, is not completely true. Like what u have said most people are busy having a job/school/gf or all of em. Then do u think we have lots of time training pilots?
For example
when i get online, most of my recruits are at school or it is early in the morning. So you cant blame all on us, cuz the timelines suck. second, for operations you are talking about, there is much needed. We all have to be on, or at least most of us. And again the timelines suck, when most of you are done at school or work, its night with me and also with some other members like canadians.
If u think you are a better trainer or have more time than i am online for GPEO go ahead and train everyone. But as long as you dont, STFU! I spend the most time i can for GPEO, i am almost always online when im home, unless i have to eat, walk the dogs, sleep, school (more than 3 hours travel time in total with the bus) or when i cant because of my parents. But usually im always in the mood for flying and training recruits, i wish i could say the same for most of us here.
You are almost always offline, and when ur on you wont dare to get involved into GPEO.

and about FS9, we are getting it to have fun, not to have wars goin on. It is purely that i have more frames, we can practise stuff there with good frames and wtf do u care, if u dont want to get it THEN DONT!
Last edited by nlairforce on Wed Jan 06, 2010 8:10 am; edited 1 time in total (Reason for editing : update!)
Oh, come on snake he didn't even come close to saying that we need to be on all the time. He had a really valid point because we aren't organized AT ALL. There are other VMs out there that have pilots with the same amount of time and stress as we do and yet they are twice as organized as we are, both rank/squadron-wise, and in the air. That's not to say that they're more skilled than us its just that they have people to tell them how to do things (and even those people have lives) and of course they have experience that we don't. How many wars do you think have happened involving other VMs than us since we ended ours with the FSXF more than a couple I'm guessing. And not only that recruits like me have been sitting here waiting for training for months and only just recently have I started to receive it. I've been in this group for m0onths and have been trusted with knowledge of secret operations (and even taken small part in them and I can't even train recruits yet. How can you say that that is ok for a supposedly "great" VM to function?
im only talking to "some" of his statements, i dont deny its unorganised. And what was said in skype, i agree with having someone in command or some group, we need order and plans for the future. I already said that to dragon but i dont think he got me right. We need valid plans written in the forums or even just on skype, to do an escort for example. There is nothing goin on right now, and we need to change that.

PS:
i still mean what i typed above cuz that was to other statements of bassace
All this talk about someone being in command is compleatly un-nessisary. We DON'T Want another Rockstar Incident again !

We are not in a combat situation so we do NOT need autority at all. ONLY in a COMBAT Situation is when we need authority and a commander commanding pilots to take control over BATTLES, not in domestic GPEO affairs (We do NOT control members, we control BATTLES). This is what fucked things up in the past, no wars to fight, so we must start war games, black operations, and get the ball rolling.

It may seem like I am planning things, but not putting them into play. I present things and maybe I should make things clear when we plan things, set a date and time to meet when we make a decision, insteand of plan for future things. I do my part as Director, and on top of that I train pilots, so that they can start to train pilots. I have been working on a Officers Training Course, and will make lectures if requested, advice on officer duties, etc.
Dragnoxz wrote:
We are not in a combat situation so we do NOT need autority at all. ONLY in a COMBAT Situation is when we need authority and a commander commanding pilots to take control over BATTLES, not in domestic GPEO affairs (We do NOT control members, we control BATTLES).

I may be out of line for saying this but what the hell:
an established CoC is a very valuable thing to have, even in peacetime. Just having an established CoC may help you guys out with all your problems. Even in peacetime when it may seem like you dont need a CoC, it may help junior members who are unfamiliar with the high command. People would also know who to go talk to if they have a problem. and with an authoritative figure, that would help keep your team in line.

Fury12




Posts

: 67


Join date

: 2009-10-20


Location

: Washington DC



Take, for example, Unity Security Force (USEC,) They have been around almost as long as you, have 10 times the members, and is the most organized VM out there. I suggest tkeing up a copy of their Standing Orders and reading over em. It's great stuff, and my VM is partially based off of it.

GPEO Is unorganized, and leaders arise in the midst of combat. In order for there to be combat, you must have wars, or war games. I have been in several Operations with GPEO, Namely Rollfield. There I witnessed a LOT of disorganization. We rarely knew where everyone was, we didn't have a set leader, and there were no rules to follow. Rules are meant to be broken, yet are necessary to keep everythingt in order and organized.

WDF Didn't become the premier VM in the New World over night. We spent a couple months training, negotiating, and sometimes fighting our way to it. We wouldn't have been able to do this without a command structure. The way our's works:

We have the Naval, Marine Corps, Army/Airforce commanders as the top three

Then we have the Role Lead Officers, which are Wing Leaders and Squadron Leaders
Then we have Flight Leads, which lead individual flights
The we have Team Leaders, which lead a 2 man team of planes
Then we have other members. This constitutes at the bottom of the totem Pole.

Spartan

Member





Posts

: 288


Join date

: 2009-06-19



WDF Didn't become the premier VM in the New World over night. We spent a couple months training, negotiating, and sometimes fighting our way to it.
i am going to have to call BULL SHIT, Spartacus you practically own the new VR World you are the one mostly posting and you control the VR the WDF owns 2/4 of the world you guys Don't have that many members like USEC or the Fleet or anyone else. WDF had a mutiny recently that i saw in a video that i believe commander brann posted on youtube and you call you self ORGANIZED wow.
Now please compare the new VR world which has been up for not so long and the old one which one is more realistic and which one is not
NEW VR WORLD: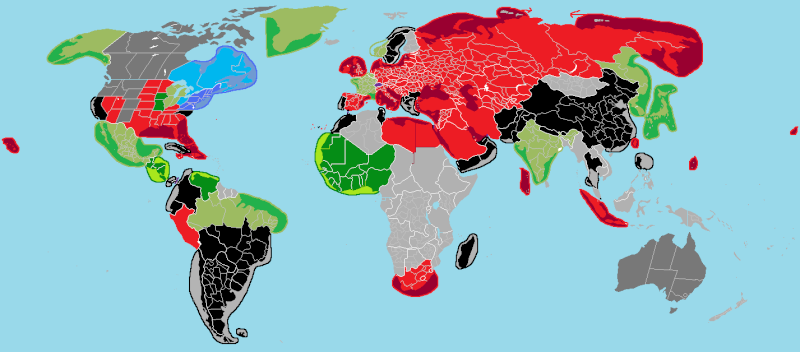 NOTE: the areas that are darker than the color are air space
Original VR WORLD: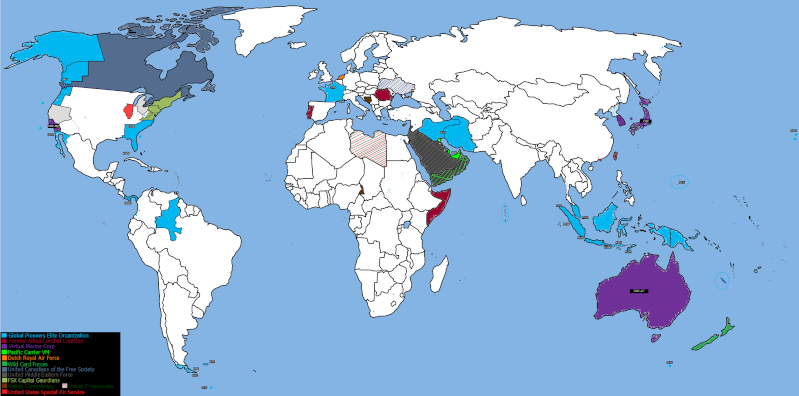 now plz compare the two Red in the new vr is WDF CONTROL FREAK corsi and you own the vr world there is no point u make the rules ur unrealistic. u toke Russia in less then 1 min 1 FUCKING MINUTE . one more vm's try joining and a Russian group shows up they will likely not join you and when they see you practically have 50 Fleets 20000 air craft 9000 nukes you really think they are going to join some dam control freak VR.... NO
so why don't you stop trying to play King of the World and actually try to be realistic and not take over the world.. and believe you are a organized vm because ur not.
Knuff said
BTW the B1-R SUCKS to dam unrealistic when u put the flaps down to full you stall out in 10 sec and the new cockpit sucks i preferred the old one although that new gauge that tells you fuel and crap is good couldent you have transfered it to the old cockpit

GhostEye

GPEO Flight Officer





Posts

: 156


Join date

: 2009-06-17


Age

: 23



ah, but you havent been in the UN Chat recently, we voted 3:1 that if a new VM Wants territory, then we gotta give ti to em if they are unimportant.


However, the Soviet fags have are obviously stupid and lack reasoning [much like GPEO,]


I could care less about YOUR opinion, because look, in the new world, every VM is active. No VMs are active in this world, there is no way for VM leaders to contact each other efficiently (why we have the UN Chat.) and look, I dont control the VR World, the respective VM leaders control it. I am just the spokesperson right now.

Oh and Russia/Soviet Union along with Europe was given to us by a disbanded VM.

Oh, and that mutiny had no effect on the way WDF is run, just a different leader. I was bumped to #2.

and to give you a comparison, we only have 16 fleets. We had 4 until JE/FRUAF disbanded.

And the B1R wasn't meant to be realistic.

I also never said I had as many members as USEC. I said we are modeled after USEC

Spartan

Member





Posts

: 288


Join date

: 2009-06-19



Spartan wrote:ah, but you havent been in the UN Chat recently, we voted 3:1 that if a new VM Wants territory, then we gotta give ti to em if they are unimportant.


However, the Soviet fags have are obviously stupid and lack reasoning [much like GPEO,]


I could care less about YOUR opinion
[color=black]Talk about a lack of respect for ones oppinions.
that VR-World is NOT Active, only 3 are the dominint posters, and 2 are a distant behind. And the "THE VR-World" is more active than you think, because you may have NOT done research into it.
And I see with that UN thing you continue to vote away more freedoms you have, lol. Your VR-World is leading toward a collapse, I can see it already. I have seen things like that before. I just can not see why factions that once were respectable could even be part of that global dictatorship of a control freak VR-World, where every factions has to post their affairs for all to see, or atleast to the forum admin, making them a puppet faction to that VR-World, that and all their members even have to be registered, desplaying it's control freak and oppresive ways. If only you knew how easy it would be for us to walk in and establish a small spot on that VR-World and just declare war on every one of those factions, and took over all positions in that VR-World. But wait, you make it a rule that GPEO, its members and me personally can not do such a thing, because it would ruin your reputation, your dominince, your control, your personal evil pride. So it is better to just keep the GPEO out. (Not that we would even want join it).
Dishonorable, Disrespectful, Hatful, Freeless, Greedy and Imature VR-World of yours. It WILL fall apart before everyones eyes. I know, I have seen it already.
And looking at both VR-World Maps, the GPEO may be the largest looking, and with the UCGS made GPEO or its influence look big, but we atleast earned it with honor. Unlike the Red, Black, and Green on your VR-World, with those having the largest amuount of land have the most ego. It is discusting. I see a complete hippocratical VR-World. Reserved Lands, Greed, Completlley NOT FREE. GPEO, and the rest of the Factions in the correct, true, origonal, realistic, not coppied VR-World are actually FREE. They conduct operations daily, GPEO, Uatia, I can confirm the activity, it is NOT marked for all to see because it is realistic. Actual military forces in the real world do NOT announce their Affairs to a World Owner. There is NO world owner, no control freak group at the top anywhere telling factions who and what to attack, what they can produce, how much money they make, or if they can make a base or port for income.
In the FSX VR-World, GPEO Leads the factions with ideas, helps other factions when they are starting out, and is a true 'Pioneer Faction' PAving the way for other factions, making a stand for the best cause on the face of this planet, "FREEDOM" We actually Honor the troops, veterans, and individuals like JFK, MLK, Abraham Lincoln, G. Washington, Andrew Jackson, and everyone who has made a stand for Freedom from the Ancient days to present, and into the future.
And to continue to BASH whoever thinks Freedom should be limited.. "Anarchy, is lawlesness, Freedom is Life" I Damn all who oppose Freedom, all who want to Limit Freedom, to control another human, those who believe they are better than others, who believe they are more important than another bieng. If GPEO was a real force, the world would be free by now. There would be no need for a military because there would be no need to fight, because everyone would be free of oppression, no need to steal, hate, or kill anyone for resources, food and luxuaries, because we all could attain them. I am NOT a Utopian, or a peace loving controled world. I am here making a stand to defend Freedom in the Firtual World, making an example of what 'Freedom Truly Is'. /color]
Last edited by Dragnoxz on Fri Jan 15, 2010 11:22 pm; edited 1 time in total
I CALL BULL SHIT ON THE PART OF SPARTIFUCK BECAUSE I REALLY DONT THINK THAT ANY FUCKING PERSON WOULD WANNA JOIN A WORLD IN WHICH THEY HAVE TO DO A FUCK LOAD OF MATH JUST TO GET THERE LAND I MEAN COMMON SPARTIFUCK I WAS TRYING TO ALLI WITH YOU BUT YOU YOUR FUCKING WORLD WAS SOOOOO GAWD DAMN FUCKING GAY CUZI HAD TO DO ALL THIS FUCKING MATH JUST TO GET SOME LAND AND WHEN SOMTHING CAME UP I COME BACK TO FIND THE LAND I WAS SUPPOSED TO HAVE WAS GONE B'CUZ SOME GAY ASS MUTHA FUCKA NAMED SPARTIFUCK HAD TAKIN IT FOR HIS SELFISH GAY SELF

SOOOO IN MY GOD DAMN CONCLUTION SPARTICUS YOU CAN GO CAN GO FUCK THE BIGGEST FUCKING CACTUS IN THE GOD DAMN WORLD FUCK YOU!!!!!!!!!!!!!!!!!!!!!!!!!!!!!!!!!!!!!!!!!!!!!!!

bobbyhill1994

Member





Posts

: 39


Join date

: 2009-06-03




---
Permissions in this forum:
You
cannot
reply to topics in this forum