What I am about to present is the plan to turn GPEO into a self-sustaining community, one which everyone will love. I am sure most factions that are starting out will fold in once this is established, or maybe will help to establish it, in doing so we will be able to fight our true enemies, and not our selves. Although I may be the Director of GPEO, I do encourage all to read and carefully examine what is being stated and planned. See if you want to continue trying to form a group that is always going to fall apart, due to lack of members, or to just fold into one that is already up, carefully planned out and actually ready to become an international community, promoting Freedom, and displaying it for the world to see. By joining our community, you will be honoring all who have fought, fight, and will one-day fight for, to defend Freedom. To hopefully one day, secure it one in for all. Therefore, that no one will have to fear oppression of another. Pease examine this and the cause of this group. You might have joined, left due to your dislikes of how it was run, then want to return due to its improved system. I know of many of you who are trying to start a group, already have one up, or just are tired of running theirs, and might just eventually give up and disappear due to boredom. I can guarantee that you will not be bored in GPEO, once this structure is in place, because everyone will have a duty, whether it be flying combat operations or rescuing someone, bombing enemies of freedom covertly, and earning awards for it, Serving all over the world, preserving freedom. Now, here is the Plan: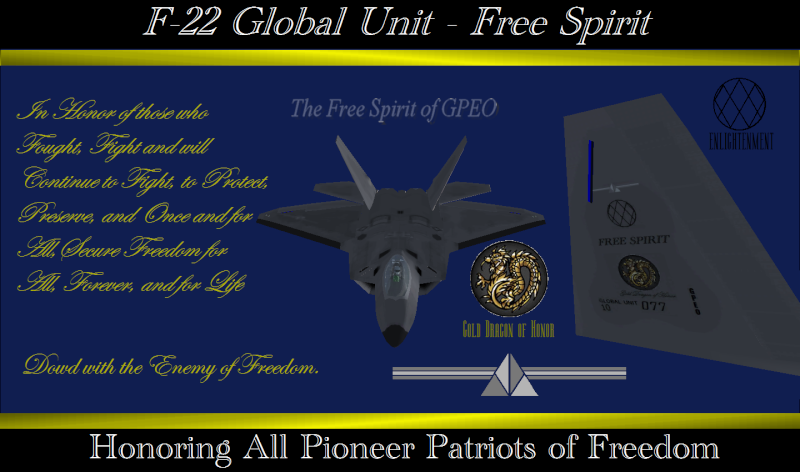 The "Board of Directors" is going to be the Council, type, staff group, which will be headed by the Director of GPEO. Each member of the Board will Head a Specific "Program" within the GPEO, and will be Bright Blue on the forum, while the Director is Gold. They will hold the most important areas of the group, which will require extreme responsibility, knowledge and the "How to Do It" for their field, and must understand that they will need to be "Responsible" because they will be relied upon by those making up each program. The Board will be sort of like mentors for the members making up each program. Heading the Programs is their Responsibility. They are the ones who Report to the Director, and exchange information, same goes for the Director, he will report to them. If any of the Board of Directors has any issues or problems with their Program, they would be to contact the Director and schedule a meeting on the subject, and vice-versa. Each program is different. In order to start this system, we will need to recruit lead "Training-Evaluation Officers" for training each role, so a Training Program must be established before the rest of the structure can begin. How we will start this Initial Program, the Director will head the "Selective Recruitment Program" until enough T-E Officers are available to begin an "Official Training Program." Once this is attained, the Director will return to being the Director and will form the "Recruitment Program," utilizing a member who will oversee and head it, teaching everything they need to know. After a "Recruitment Program" is established, the next phase of the Structures construction will be to establish a "Unit Organization Program" in which the person heading that program will take the freshly trained members and organize them into Official Units of the same roles, and give them their base of Operations, which could be anywhere the GPEO, has a base. After Units start to form, an "Operations Program" must be formed, this program requires someone to be able to test, and study the outcomes of battles. The head of this program would contact the leaders of units, give them their area of operations, an order to defeat the other group, which will have different names in the game, and will observe the movements in which each unit conducts against the other, examining and documenting everything. The Operations Program Director would mostly be flying in an AWACS, Observing, and giving heads ups to the leaders who request information. The AWACS will be in communications with each combat group, however will not be the ones giving orders. The AWACS will be playing eyes for both sides, until an AWACS Unit can be formed.

Make a Note. We cannot have a Squadron without members to occupy the positions; Squadrons are formed when there are members to form a Squadron or Unit. Therefore, cancel your hopes on forming a Unit on your own, Units are formed naturally, the members who are directed into a unit together are placed in the unit by the "Unit Organization Director." When each unit is formed, the members of that unit name their unit, and paint their planes. This makes it more logical and fun for them. The "Unit Organization Director" only places members who fly the same aircraft together at bases and gives them their assigned hangers and parking areas, along with their scramble parking areas. The "Unit Organization Director" also will have detailed maps of Airports, with all of the parking areas, and will designate each area for parking, for the units. Units will be placed in areas where they are needed, in the case of war. It is their individual duty to conduct training operations in order to be the best. In addition, when enough members join, new competitions will emerge naturally among the units; those who win might receive awards, like "Top Gun" or something. IT is up to the members what they want in their units, it is up to the operations director where operations occur, and where units are to station to defend and report for warfare duty. It is the unit organization director's duty to place the proper members of the same aircraft and role together. It is the Recruitment Directors duty to improve the recruitment program and to employ a media outlet for recruitment videos. It is the Training directors duty to work on improving the training program. A summary of the programs: Recruitment (Recruits), Training (Trains Recruits), Unit Organization Program, (Organizes units of the same craft and roles , and assigns them to assigned peace time bases), Operations Program (take units and deploys them to frontline or war-game bases to conduct various large scale operations) Each individual unit will follow the ranking officer of that unit, and will all train and practice small scale operations whenever they want or can, scheduling time for their units to do so. Operations will be plentiful; Black Operations will also e able to start once the GPEO is self-sustaining. This will be the "Matrix System Structure" once it starts, it cannot fall apart. In addition, in the future, we may start other programs, for aircraft designing, airport and maybe even weapons designing. However, the primary goal is to spread the cause of "True Freedom." Thank you for taking the time to read and for understanding this Document.
Dragon, its brilliant. I just read it all. Still i want to keep our chain of command in that i put in. I think that will lead us to a more realistic VM, but your ideas are great.
All we can do is Test, using the "Scientific Method" in where we will actuall find out if it will work. I used most of my time experamenting with different things, what would fail, what would work, and this is a simple, but effectiv plan in which nothing could fail in the proccess. Do you have a plan for you idea ?

If you are up for it, and after I get a MIC to better communicate, and help train "Razgriz" we could all work toether on explaining how our ideas would work. Through ideas and planning, we will prevail with Knowledge over Force, Freedom over Oppression, and Truth over Lies and Compassion over all.
Well, It involves a little less freedom, but alot more opportunities for GPEO. Members will try to get better and gain ranks. Im gonna make certifactes for rank promotions with requirements etc on it.
Dragon, the problem I find with this system is it needs MEMBERS. Many of the problems in GPEO flow from lack of members. Another thing is, those at the top of the system need to know exactly what their doing, and we don't have all that many people in GPEO right now who do. Currently there are like 4 active members who are in GPEO, trained, and probably capable for that role. Until we can get more members, I don't see that this will work quite yet.

rubendal

GPEO Flight Officer





Posts

: 267


Join date

: 2009-09-06


Age

: 24


Location

: On your 6



[quote="nlairforce"]Well, It involves a little less freedom quote]

We will have very BIG problems if there is ANY lack of Freedom, and I am not Joking. Freedom is a verry touchy issue with this group, and no one takes ANY Freedom away, or limits it EVER, and if ANYONE has ANY truoble with that, then they can stary up their OWN group with less Freedom in it.
rubendal wrote:Dragon, the problem I find with this system is it needs MEMBERS. Many of the problems in GPEO flow from lack of members. Another thing is, those at the top of the system need to know exactly what their doing, and we don't have all that many people in GPEO right now who do. Currently there are like 4 active members who are in GPEO, trained, and probably capable for that role. Until we can get more members, I don't see that this will work quite yet.
The "Selective Recruitment" Phase will be te one to Recruit members who ill be future "Training-Evaluation Officers." From there we would start the Recruitment program, where the T-E Officers would basically begin to recruit for thos woh like to fly for their role, and then these new recruits who become members will be trained and briefed on and will understand the lay out of how things are going to be for a while. These memberts would be able to conduct operations together on their own for training operations, to keep their skills up, and some of them might try for advanced officer training where they will learn (if they choose) to become Directors of Programs, or we could also keep the Selective Recruitment going untill we fill in these Director Positions. They will be trained on their positions, they wont just request and be hired for that position without training. I might take time, and we all want actions, but it takes hard work before we can achieve anyhing in the future. This is something not everyone can understand, because they just have fun now without working now, when you have fun now you end up not having fun later, where as you work now then you have a long tie of fun after. Get it ? But, in this way it is fun for some to have a sense of responcibility, instead of a sense of duty. This allowes freedom being extended. This also allows for the structure to be able to start off fith a small amount of members for recruiting at first. In this process, we can also train members during this phae. IF you don't think this will work, and decide not to help out, then you don't have to. All it takes is for one person to go out, recruit indivdual members, keep close communications with them and maybe even train and teach them this structure, break individual program for the ones who choose ow wish to be the director of a program (which we might have some here that would like to be director for one of the programs, and can be briefed now and set up in that position, wether it be recruitment director or any other directing positons. It will require maturity, a sense of responcibility, dedication and honor, along with the know how to successfully do their part. And the best thing about it is they choose, but there is no lack in freedom when they simply cant pass a test at the end to achieve this position. Testing and training and education will be used, and if someone passes then they got the spot, if not then they wont be effective enough in that spot, however additional training on where they fail can be done also. No one saying no to them, all they need to be is patient for training, unlike someone, whos name (Kendalls name) I wont mention, is to impaitent to stay, so they wwill leave. THen they were NOT the one for the position. Same goes with any other member, who has problems wit another member, as in with the Bmxbika and Hawkins issue, where bika hated Hwkins because he got a chopper leaders position, where as bika lead his unit of choppers and VTOL. Bika thought he was the one to lead all the rotor and VTOL, when I said he was the only one for choppers at he time, misunderstanding, so he had an additude, and BITCHED, then left, like a imature FUCK.
Anyway, what o you say we find out who is up for any of thse directorpositions for aprogram. The spot is easy once someone is briefed, taught, and educated on the position. Not must, and they still get to fly and have fun with everyone else, and do operations This also means that everyone else can participate in these operations. It is a natural structure in which all is needed is a kickstart, then it takes off from there. The training phases might take time, but once lead trainers are recruited, trained and ready for recruitr to train, that is when you will se this structure form, from there it will form faster. Hell, we could also have more trainers to train more recruits faster, expand the recruitment and training programs, as more members become staff.
It is a viral system, one recruits one, them two recruit two each making four, now there is four to recruit another four making eight, get it ? But, the selective recruitment will recruit those who already have experience, the will write a training document, which will be used, or is not to GPEO standards will be edited, and then that will be the main training document, which would be used by future trainers, untill someone finds a flaw in it, then it would be taken to the recruitment director. Now do yo get it, a Matrix System, everyone interacting togetther as a team, with no lack of freedom.
Some have called me a "Freedom Freak" or too obsessed with "Freedom," but I would prefer be exposed to the inconveniences of too much Freedom than any Lack of it. Someone once also said that, and I honor him for it. I will be honest. IT pisses me the FUCK off to have someone tell me that I need to remove or limit freedom in a group I founded so long ago, to have no choise but to leave for a month and to return and have someone like Cokcstard tae advantage of that, saying he wasted his time to keep GPEO going for that month, and to claim I was a poor leader, him and bika, macsbone and other FUCKS, the to E-Mail everyone that I have retire form GPEO and gave him GPEO, or something. THen to tell everyone and actually convence them that I was a bad leader, whn I was doing all this work for the group up untill I lost internet for that amount of time. For him to say he did some chainges and eventually that a council voted me out of the group of freedom that I founded was no longer mine, because of my time gone. THis had better not start all over again, but I fear that it might. And I will start to act more agressive and to the point when I see things headed that way. GPEO has restarted once, andit can again. It is sad how Kostar thought he owned this group after he made a song for it, and claimed to have coppyrighted it. You don't just make something, then have someone take it away. I may sound selfish, but you build something, lead and train others who help you out with its construction and help build a part of it, then have no choise but to go for some time (telling them not to make the group their life), then return and have parts of the building built in a different way, all messed up and have them say you are not welcomed, or tell them you have no say so in the direction of the future construction of the group. I have the written documents by the way, of them saying that. To be lowered to a pilot, no say so in the direction of the group, then to feel unwelcomed in i, after trying to train, learn the ADE, panel editor, and painting programs, along with the Team Speak.
Well then about what you said to me. Lets vote.
I put alot of effort in it when you were away, and i dont want it back anymore. It is keep it or i leave!
As I told you, I took over the place. I dont mind sharing it, im not greedy. But as i said, there have to be compromises or else it is over for me. Too long i have been inside bullshit and things just had to change and i am glad i got a chance of doing it. It is your decision, Either you break friendship by doing what you want, or make compromises, as any good leader should.
You always say you are so "Open Minded". Then show me that you are open minded
Dragnoxz wrote:

We will have very BIG problems if there is ANY lack of Freedom, and I am not Joking. Freedom is a verry touchy issue with this group, and no one takes ANY Freedom away, or limits it EVER, and if ANYONE has ANY truoble with that, then they can stary up their OWN group with less Freedom in it.
Absolute Freedom without limits is Anarchy.

_________________
We are Uatia! Our business is war! Our home is the battlefield! Our lives evolve around the death of our enemies! We will be remembered, by the families of all the assholes we killed.

"Uatia, freedom through force!" -MC Sics
Maybe your right, however, the structre, along withthe freedom should work. I also understand that $nake wishes to be "The GPEO Director" but he is the "Military Leader" and it was his duty to defend GPEO against attackers, and to keep GPEO politically inactive (meaning political talks and donating positions were not meant to happen), however. It is not me who will choose friendship, over the group. If possible I will try to have friendship and the group. This "Taking over GPEO" is reminding me of the Rockstar issue, and if something like that is going to happen, then why would I want to be friends with someone who is willing to tke away the group that someoneelse formed, wrote allmost every document from scrach, and then have to leave for months (Not their decision) try to tell them not to over do it by running this goup while its Director id abcent, then return to have them say thatthey took over, and the group they formed is no longer theirs.

Structure yes, Freedom, yes, Ranks, already there, is it a lack of freedom to have Ranks ad Structure, no, does this mean Aarchy to have Freedom ? Duno, but no one has ever read the GPEO rules, have they ? Would everyone feel better if these rules were enforced more stronger ? If so, Coup's to take over the group are an illegal act. So, read the rules carfully: http://gpeo2.webs.com/lawjudicialsystem.htm I do reget that we did not vote to have a council before my abcence.




I ould like to make a note that this topic is becoming off topic, and thatthe message that was written of the document on the matrix system structure is being igored. Maybe we should make another post, before the origonal message of this topic is defaced by internal polatics. And make a note, that internal polatics brieng foth the down fall of great groups, should those who fight wach other for positin continue to do so.
So, are we all on the same page ? Does the rest of GPEO understnd this system ? Is it safe to say that this is the path we will choose together ? Are we ready to begin our future by starting its construction today ? Are we ready to ROCK !?

---
Permissions in this forum:
You
cannot
reply to topics in this forum